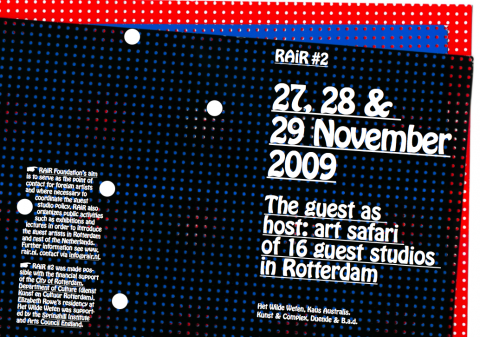 I am presenting a new work in this exhibition, a 360º soundscape.
RAiR #2, The guest as host: Art safari of 16 guest studios in Rotterdam

Opening Friday 27 November 16:00 h.
Free Entrance
On Friday 27th, Saturday 28th and Sunday the 29th of November, the artist initiatives Duende, Stichting B.a.d, Kaus Australis, Stichting Kunst & Complex and Het Wilde Weten are opening their doors to allow the public a glimpse into the studios of more than 20 international artists who are temporarily in residence in Rotterdam. Throughout the weekend you are invited to attend a wide-ranging programme of exhibitions, performances, artist talks, workshops, dinners and parties at five different venues.
With Soizic Stokvis (FR), Pascal Schwaighofer (CH), Reinaart Vanhoe (BE/NL), Nikolaus Gansterer (AT), Warren Neidich (US/DE), Szpilman (DE), Hee-Seung Choi (KR/NL), Elizabeth Rowe (UK), Filip Jonker (NL), Josepha de Jong (NL), Wilma Kun (BR), Dario D'Aronco (IT), Mathijs Labadie (NL), Rachel Carey (US), Ina Smits (NL), Ursula Guttmann (AT), Enrique Tomas (ES), Michiel Huijben (NL), Daniela de Paulis (IT).