"360 Poetic Landscape: the unknown island / an interactive visual and sound installation for the Biennial of Books and Reading, Brasilia, until April 23
Artists: Geert Vermeire, Stefaan Van Biesen, Enrique Tomas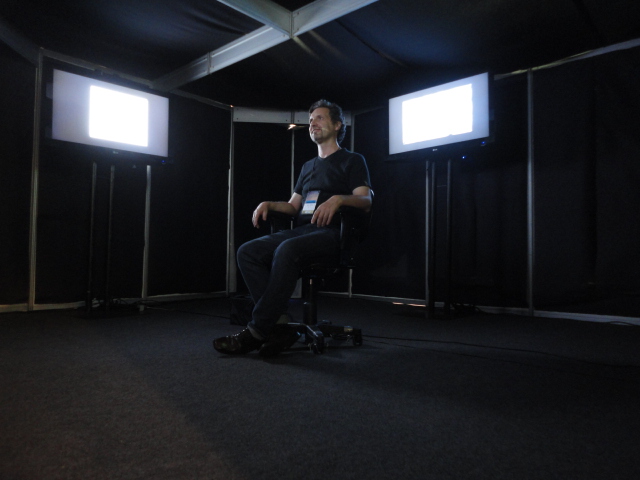 "The tale of the unknown island" of José Saramago brings artists Enrique Tomás (Spain), Stefaan van Biesen (Belgium) and Geert Vermeire (Belgium / Brazil) the production of a collaborative work.
An interactive technology, developed specifically for this installation by Enrique Tomás in collaboration with the University FH ÖO of Austria, allows to become part of a 360 ° soundscape and visual experience, which changes with the orientation of the listener sitting on a swirling chair. All with 3D audio with spatial properties due to the use of binaural and ambisonics recordings.
Four natural soundscapes by Enrique Tomás represent four environments fairytale and sound following the movement of the listener.
These speakers reproduce audio content are mixed in an organic way, depending on where you are listening.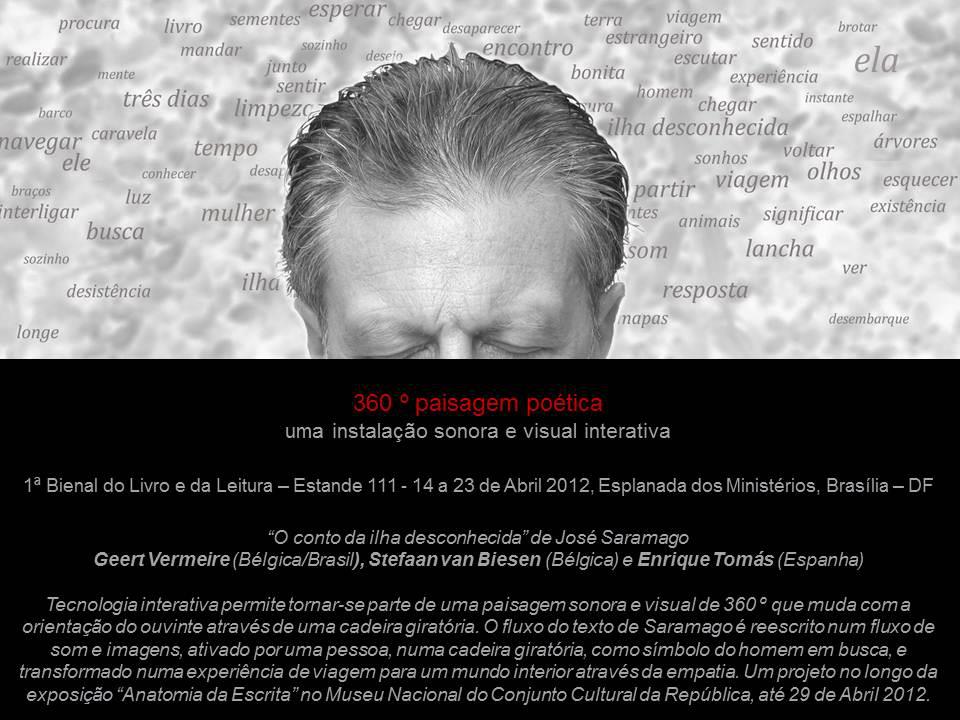 The experience takes place in a dialogue with the projection of multiple videos, poems and songs, created for this installation by Stefaan van Biesen and Geert Vermeire.
The flow of the text Saramago is rewritten in a stream of sound and images, activated by a person in a swivel chair as a symbol of man's search, and transformed into a travel experience to an inner world through empathy.
The work of artists of this facility connects with the typical approach of Jose Saramago, always in search of a public awareness by investigating and recreating situations that question the anxieties and hopes of humanity.
Geert Vermeire and Stefaan van Biesen (such as the collective principle Milena) has collaborated with Enrique Tomas in several projects linking literature and new media. Including geolocation, handling technology, literary applications for portable screens (smartphones, tablets, GPS) to among others, the Museum of Contemporary Art in Ghent (Belgium), the National Museum in Belgrade (Serbia), Museum Kunstsammlungen Chemnitz (Germany) Deichtorhallen Museum of Hamburg (Germany), Musée des Beaux Arts in Brussels (Belgium). "